Return to Headlines
Christina School District's Dan Shelton Named 2022 AASA Delaware Superintendent of the Year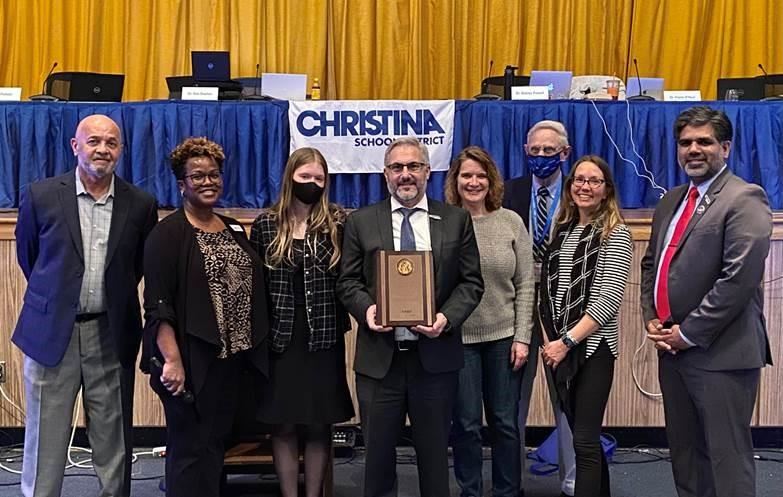 April 13, 2022 – Dr. Dan Shelton, Superintendent of Christina School District, has been named the 2022 AASA Superintendent of the Year for the State of Delaware. AASA, the American Association of School Administrators, advocates for the highest quality public education for all students and develops and supports school system leaders.
"During the 2020-21 school year Dr. Shelton served as president of the Chief School Officers Association, a department of the Delaware Association of School Administrators," said Dr. Tammy Croce, Executive Director, DASA. "His leadership skills served the group well as they navigated the challenges presented during the pandemic. Dr. Shelton is well respected by his peers as evidenced by his selection as Delaware's Superintendent of the Year 2021-22."
Shelton has held many leadership roles and has more than 24 years of experience as an educator and administrator. In addition, he has served as superintendent for two school districts in the State (Capital and Christina).
"I'm proud to salute Dan Shelton on being named Delaware's 2022 Superintendent of the Year. He's shown passion and commitment to the students, staff and families of his District and has made deep and lasting contributions to education here in Delaware," said Dr. Matt Burrows, Superintendent of the Appoquinimink School District and a member of the national governing board of AASA, the School Superintendent's Association.
AASA (American Association of School Administrators) is the professional organization for more than 13,000 educational leaders in the United States and throughout the world. AASA's mission is to support and develop effective school system leaders who are dedicated to equitable access for all students to the highest quality public education. Applicants are selected based on leadership for learning, communication, professionalism, and community involvement.
"I am honored to be recognized by the Delaware Chief School Officers Association and the American Association of School Administrators. The work of a Superintendent is not done in isolation. As a group, the Superintendents have always worked together to ensure that we are addressing the needs of all of our students in the State. The last few years we have really come together and worked collaboratively," said Shelton. "In Christina, I could not be more proud of the leadership team we have built and the work that is being done in all of our schools by dedicated individuals who work in and in support of classrooms to ensure that they are meeting the needs of students and families."
Dr. Dan Shelton has earned several degrees from the University of Delaware, including Bachelor of Science, Masters of Education, and Doctor of Education, and graduated from the 1st cohort of the Delaware Association of School Leaders Executive Leadership Academy.
###
About Christina School District
The Christina School District is a Delaware public school system, serving more than 14,000 students and employing 3,300 people. Our district currently serves the City of Newark and its surrounding suburban areas as well as the City of Wilmington. Christina has 2 early education centers, 14 elementary schools, 2 elementary/middle schools, 3 middle schools, and 3 traditional comprehensive high schools. In addition, the District is home to the Brennen School (Delaware Autism Program), CSD Virtual Academy, Delaware School for the Deaf, Douglass School, REACH Program, Middle School Honors Academy at Christiana High School, Networks School for Employability Skills, and Sarah Pyle Academy. For more information visit https://www.christinak12.org