Return to Headlines
Commencement Day - What to Expect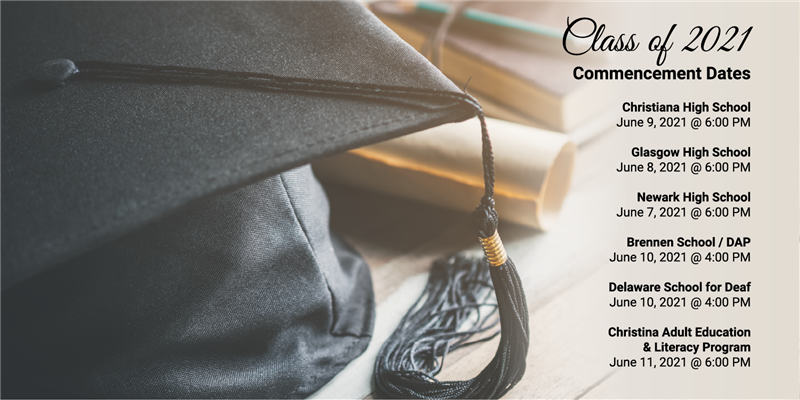 Christina School District's June 2021 Commencement ceremonies will be in-person. We want to make sure you know all of the details, so your big day is not only safe but also a success! Commencements will take place during the week of June 7th. We look forward to recognizing the achievements of our graduating seniors.
Ceremony Dates
June 7, 6 PM – Newark High School
June 8, 6 PM – Glasgow High School
June 9, 6 PM – Christiana High School
June 10, 4 PM – The Brennen School
June 10, 4 PM – Delaware School for the Deaf
June 11, 6 PM – Christina Adult Education Program
June 12 – Rain Date (If Needed)
Ceremony Locations
Christiana, Glasgow, Newark, Brennen/DAP, & Adult Education Commencements will be held at Glasgow High School – 1901 S. College Ave., Newark, DE 19702. Guests, with tickets, can access parking via Route 896 and/or Cooch's Bridge Road. All Commencement events will be held outdoors in the stadium. Tickets are required to enter.
Delaware School for the Deaf Commencement will be held outdoors at Delaware School for the Deaf - 630 E. Chestnut Hill Road, Newark, DE 19713. There is no rain date for this event. It will be moved inside to the auditorium if it rains.
Entrance Requirements
Glasgow Stadium - Tickets are required to attend in-person commencement activities. Each graduate will receive four (4) tickets to provide to family and friends. Gates will open at 5 PM.
Delaware School for the Deaf - Please contact the school for information.
Health & Safety - Mask Required
Home Screening required. All students and guests attending the event must complete the Home Health Screening Tool prior to the event. Students and guests can complete the form, the day of the event, HERE.
Masks required. To ensure the safety of all students and guests, the Christina School District will require face coverings while inside the stadium.
Watch the Ceremonies Online
The ceremonies will be livestreamed on our Class of 2021 Senior Celebration website at www.christinak12.org/graduation
Delaware School for the Deaf will livestream its ceremony on the DSD Facebook page at www.facebook.com/dsdeaf
Livestream and recordings of the ceremonies will be available on the Christina School District YouTube channel as well.