Return to Headlines
ALICE WILLIAMS NAMED EDUCATIONAL SUPPORT PROFESSIONAL OF THE YEAR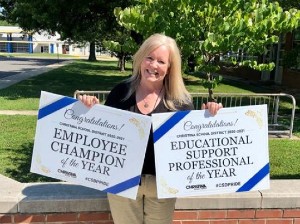 Christina School District has named Alice Williams, Secretary at Smith Elementary School, the District's 2020 Educational Support Professional of The Year. Williams will now move forward to represent our District and school community in the state program.
This award is given to a Christina School District Employee Champion who is exceptionally dedicated, knowledgeable, and promotes a positive, supportive and professional image within his/her worksite and community. The District winner will receive a $1,000 personal award from the Christina School District. The state winner will receive an additional $1,500 personal award from the Delaware Department of Education as well as $2,500 to be used for the educational benefit of his or her students. The state winner will be announced in November.
Williams has 25 years of experience working for private and public schools. She has worked at Smith Elementary School for three years and at Stubbs for four years before joining the Smith team. "I love working for Christina and have met amazing people in our schools and our community," said Williams. "I'm honored to be part of the important work done by our teachers."
In 2018, the Delaware State Educational Support Professional of the Year Program was established under House Bill 134 as amended by House Amendment No. 1 of the 149th General Assembly. In 2019, the Delaware Department of Education drafted Regulation 237 to implement the program and establish policies and procedures for the award. The first state winner will be selected in November 2020 to serve as the 2021 Delaware Educational Support Professional of the Year. It includes paraprofessionals, custodial staff, secretaries, nutritional staff and school- and district-employed bus drivers and aides.
Congratulations, Alice!