Groves Adult High School
James H. Groves High School is a secondary school for adults who have not finished high school. The school is approved by the Delaware State Board of Education and accredited by the Middle States Association of Colleges and Schools.
Get Your diploma!

Finish what you started back in high school! Whatever caused you to leave you can finish now!

Have a Graduation Ceremony!

Celebrate!! Have a real cap and gown graduation with all of your family! It will be a moment you never forget!

Get College Ready!

Your High School Diploma is the beginning of your journey! Get ready to go on to college!
How long will it take me to earn my diploma?

How can I earn credits to graduate?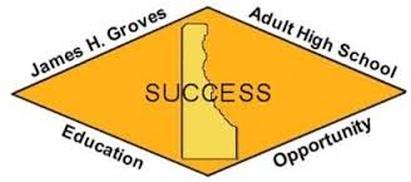 Finish Strong And Celebrate Your Milestone!