James H. Groves Adult High School
James H. Groves Adult High School is a state approved adult secondary school designed to provide adults and out-of-school youth with an opportunity to complete a high school education and earn a State of Delaware High School Diploma. The school is accredited by the Middle States Association of Colleges and Schools.
When and where are classes typically held?

What are the graduation requirements?

How can I earn credits to graduate?

How will I know which courses I need?

How can I obtain my high school transcript from one school or multiple?

How do I obtain additional information?

Groves In-School Credit Program for Christina School District High School Students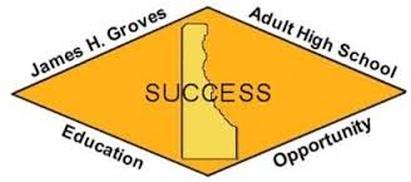 Finish Strong And Celebrate Your Milestone!
Get Your High School Diploma!

Particpate in a High School Graduation Ceremony!

Get College and Career Ready!