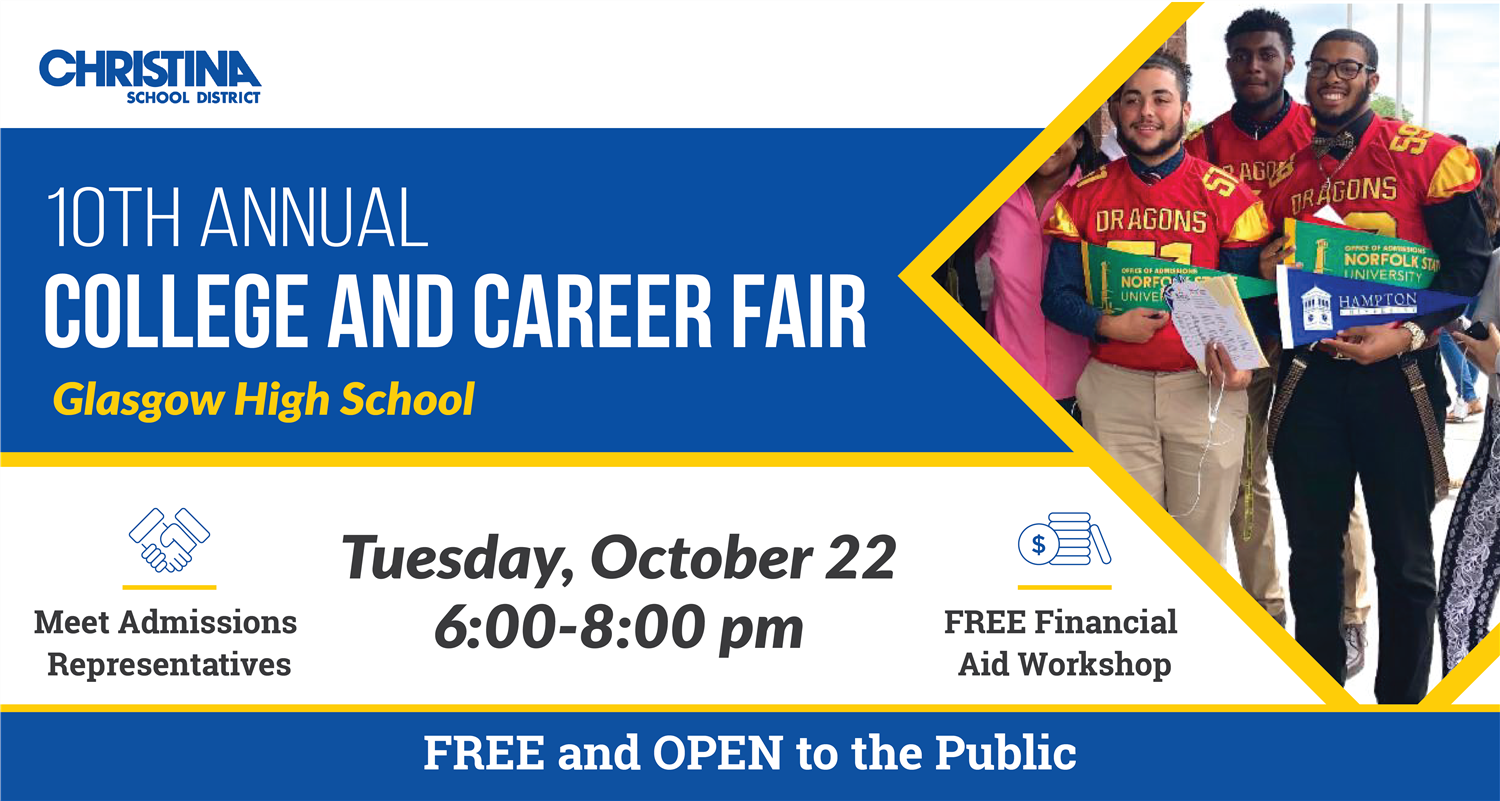 10th Annual College & Career Fair - October 22
All students in grades 6-12 and their families are invited to attend this free college and career fair at Glasgow High School (1901 S. College Avenue, Newark, DE) for an opportunity to meet face to face with more than 60 representatives from colleges, universities, trade schools, and local businesses from across the region.

SPECIAL FEATURE - For Middle School Students & Parents

Learn about the newly-reimagined college and career pathways offered at Christiana High School, Glasgow High School and Newark High School.
Discover innovative college and career readiness programs offered at Christina School District high schools.

Highlights

30+ Colleges and universities, including trade and technical schools, military academies and recruiters.
Admissions representatives on-site to help you learn about academic programs, admission requirements, and the enrollment process.
Information about financial aid, scholarships, and other ways to pay for college.
$tand By Me providing one-on-one financial coaching to assist families with completing the Free Application for Federal Student Aid (FAFSA). (see below)
Representatives from disability services, study skills/SAT prep, and more!


It's never too early to get a jump-start on your future!

This event is FREE and open to the public, including students and families from surrounding areas. Light refreshments will be served. Sign language and Spanish interpretations available upon request.
2019 Participating Schools & Organizations

Division of Vocational Rehabilitation

Automotive Training Center

Back to Basics Learning Dynamics

Barbizon Modeling & Talent Agency

Cecil College

Cheyney University

DE Department of Education

Delaware College of Art & Design

Delaware State University

Delaware Tech Community College

Department of Labor Office of Apprenticeship

Harcum College Hussian College

Immaculata University

Manor College

Moravian College

Neumann University

Pennsylvania College of Art & Design

Salem Community College

Schilling-Douglas School of Hair Design

Spectrum Scholars

The Citadel

U. S. Army

U. S. Military Academy

Universal Technical Institute

University of Delaware

University of the Sciences

Verto Education

WaWa College Graduate Leadership Program

Wells Fargo Education Financial Services

Wesley College

Widener University

Widener University Delaware Law School

Williamson College

Wilmington University

Year Up